Rock and Roll outfit from Tennessee featuring former members of Lynyrd Skynyrd and Blackfoot.
Skinny Molly was founded in 2004 by Mike Estes (formerly of Lynyrd Skynyrd) and drummer Kurt Pietro. What was meant to be a one off tour of Europe has turned into one of the hardest working and popular rock bands out of the southern United States. Skinny Molly now includes guitarist Jay Johnson (Blackfoot/Rossington Band), and Grand Ole Stalwart bassist Luke Bradshaw. This line up has toured relentlessly, crossing the States and three continents on the strength of their "No Good Deed" debut CD in 2008, which has established the band as popular touring outfit across the USA and Europe.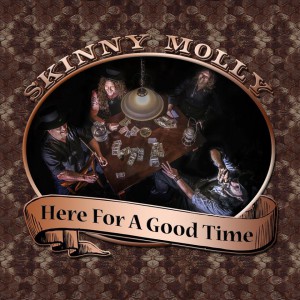 The music and live reputation of the band caught the attention of legendary Ruf Records label president Thomas Ruf. Skinny Molly subsequently signed a deal with Ruf Records, becoming the second "southern rock" band to be signed in the wake of Ruf's expansion into the genre. At the time of the signing, Skinny Molly was in the studio cutting what would become their new and widely acclaimed CD, "Haywire Riot" released last year. The band hit the road over the next year, playing all over the world.
Skinny Molly's third CD, released in 2015, is titled "Here For A Good Time". The new tour will take Skinny Molly again from California and all over the USA to Scandinavia and all points in Europe. This band is on the move and have become a major force to be reckoned with on the Southern Rock scene. Skinny Molly's mantra is "Never let one fan leave a show disappointed" They have made good on that promise, and by all accounts are committed to keep it for many, many years to come. Check out "Haywire Riot" for the best songs in southern rock since the good ol' days…This is no retro act though. These guys stand on solid songs, unique playing and creative instrumentation and arrangements to make even the most jaded rock fan (or even country or blues fan) a fan for life. Jump on and enjoy the ride. You won't be disappointed !
Mike Estes: guitar & lead vocals
Jay Johnson: guitar & lead vocals
Kurt Pietro: drums
Luke Bradshaw: bass
TRACK RECORD IN HIT-TRACKS TOP 100:
2014 > If You Don't Care
#01 in 2015 > Here For A Good Time
2015 > Give You All Night
http://www.skinnymollyrocks.com