Will Wilde is a vocalist / guitar- and harmonica player from Brighton – UK. He picked up his first harmonica at the age of 16. Weaned on the likes of Muddy Waters, Sonny Boy Williamson and Buddy Guy, Wilde grew up steeped in traditional Chicago Blues, yet his focus as an artist remains resolutely on the future.
Wilde fuses his passion for blues with his love of rock. He takes what's authentic and powerful about the music he grew up loving and introduces the raw energy of bands such as Led Zeppelin, Free and Deep Purple without losing the heart and conviction of the blues.
With knowledge and respect for the original masters of the instrument, Wilde takes the harmonica to a whole new level. Thomas Ruf (Ruf Records) called him 'The Hendrix of the Harmonica'. His live show has been described as: 'A masterclass of blues harp playing'.
Wilde has been seven times nominated in the British Blues Awards for best Harmonica player (2010/2011/2012/2013/2014/2015/2016) and he has shared the stage with various notable blues artists. He has appeared twice on the Legendary Blues Cruise playing with veterans such as Sherman Robertson, Michael Burks, Earl Thomas and Taj Mahal.
Will's debut album "Unleashed" was released in 2010. His second "Raw Blues" came out in 2013. The new (live) album, LIVE IN HAMBURG recorded at Downtown Blues Club, Hamburg, is out now!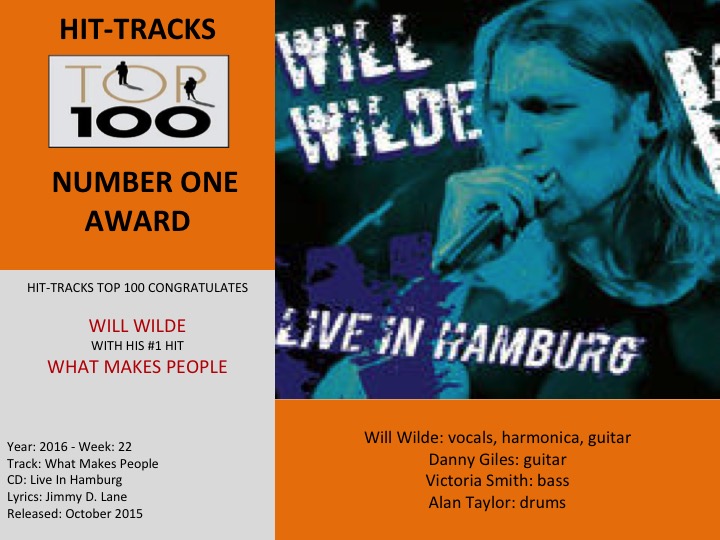 Review (in Dutch) by Walter Vanheuckelom – Concert Monkey
CD Recensie: Will Wilde – Live In Hamburg – Walter Vanheuckelom
http://www.concertmonkey.be/albumre…/will-wilde-live-hamburg Will Wilde + Band
Interview/Review (in Dutch) by Daan Zeegers in BluesMagazine.nl
http://www.bluesmagazine.nl/interview-will-wilde/
Will Wilde Band
Will Wilde: harmonica, guitar, vocals
Danny Giles: guitar
Victoria Smith: bass
Alan Taylor: drums
TRACK RECORD IN HIT-TRACKS TOP 100
2015 > If I Get My Hands On You – Live in Hamburg
#1 in 2016 > What Makes People – live
http://www.willharmonicawilde.com/videos