Regina Bonelli is a NY Blues Hall Of Fame singer/songwriter out of NYC writing original blues music. In addition to composing, she plays keyboards. Regina is accompanied by international recording artists and Blues Hall of Fame members Michael Hill-guitar, Pete Cummings & Mike Griot-bass, Bill McClellan-drums and David Barnes-harmonica. Brooklyn born and bred, Regina is a single mother who takes her life experiences and puts them into song.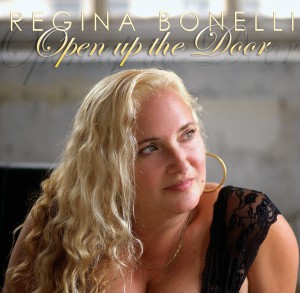 Regina Bonelli has just released her debut blues/R&B album "Open Up The Door". The album is full of heartfelt original material channeled from her personal experiences in love, life, and single parenthood and as a native of the urban jungle that is New York City. The record is receiving airplay on stations across the U.S., Europe and Australia.
Dubbed the "Reigning Queen of NYC Blues" by Big City Rhythm & Blues magazine and a member of the New York Blues Hall of Fame, Regina has delivered a narrative of songs each telling their own individual story. Her intensely soulful vocals, keyboard playing and musical compositions, joined with the expressive guitar chops and production work of renowned bluesman, Michael Hill, take "Open Up The Door" to a place that will surely strike a chord with listeners.
The title track 'Open Up The Door' is a positive message for moving forward after a broken heart and opening up the door to new possibilities. 'Cybersex Blues' is a fitting and humorous commentary on the modern state of finding love and sex via the Internet and receiving some interesting photos from admirers. With its upbeat, bluesy danceable tempo, 'Daddy I'm a Big Girl Now' lovingly tells women to be comfortable with the skin you are in…be it big or small.
Track Record In Hit-Tracks Top 100:
2015 > Open Up The Door
https://www.facebook.com/regina.bonelli
https://www.reverbnation.com/reginabonelli/songs