Dutch
Met behulp van maar liefst 4 hits in de Hit-Tracks Top 100, waarvan er 3 de top 10 wisten te bereiken, was het album "Hands On The Wheel" één van de grote verrassingen van 2014. De CD eindigde in hun jaarlijst zelfs op de zesde plaats. Met de komst van de nieuwe CD "Blues Thunder" is er nu een geweldig vervolg. De 12 nieuwe tracks laten wederom horen waarom deze getalenteerde guitarist / vocalist and songwriter uit Californië en zijn Rollin' Blues Thunder Band smokin' hot is. De album was al CD van de WEEK en de single's 'Step By Step' en 'Change It Up'  bereikte beide de eerste plaats.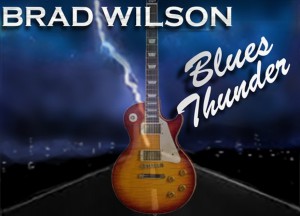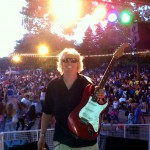 English
On June 7, 2015, Brad Wilson released his brand new album, Blues Thunder, with twelve new songs featuring California's hottest BluesRock singer/songwriter/guitarist and his smokin' band! This will be the follow up to Brad's successful Hands On The Wheel album that produced four charting singles, including the worldwide radio favorite "The Ballad of John Lee"! Considered more than a talented guitarist by his audience, Wilson is an exciting entertainer. The new Blues Thunder album will create a lot of anticipation to see Brad and his band in concert. The Rollin' Blues Thunder 2015 Tour kicked off June 5th.
Brad Wilson is a California guitarslinger who plays rocked-up blues and is a charismatic and talented guitarist, vocalist and songwriter. Performing over 100 shows a year, Brad has become known as a smokin' hot Blues player who can rock the house all night long with the best of them. His songwriting has a hard-charging Americana/Blues/Roots style. His guitar playing is contemporary blues and he can rip on lead. Brad's live show is presented with spirit and class.
Brad and his band have a soulful Americana sound with Brad tapping into all his sources of inspiration. His concerts are the kind of high-octane performances that have made him a standout hit at countless concert series, clubs, wineries and major events. Brad's energetic shows and entertaining appeal have made him a repeat performer at many of the West Coast's biggest festivals!
HIT CONCERT ATTRACTION: Brad Wilson is a rising force on the concert scene. Backing him up are Cali Bee Music Inc., European booking agent Ron Pennings and P.I.C.A., publishing giant BMI and in demand LA's 3G publicity!
TOURING ARTIST: Opening act for world famous group, Chicago, and many other national acts.
RADIO: B.B.King's Bluesville on Sirius XM radio featured daily rotation of his hit song "The Ballad Of John Lee". Roots Music Report gave Hands On The Wheel "5 STARS – our highest rating!" Heard on International Radio in over 30 countries and 45 states! MOVIES: Brad Wilson's Music was featured in John Carpenter's last two films and soundtracks, Vampires and Ghosts Of Mars.
TELEVISION: CBS-TV's show, The Young & The Restless, NBC -TV's show, Passions, and ABC-TV's Regis & Kelly Show have used music from Brad's albums.
PRINT: Reviews & features in American Blues Scene Magazine, Bman's Blues Report, Roots Music Report, Blues Rock Review, Blues Music Magazine, Southland Blues and many others.
Written by Lori Graboyes.
REVIEW Power Blues Guitar Live in BluesMagazine by Filip Heidinga
PICA PROMO by Ron Pennings
http://us11.campaign-archive2.com/?u=566004e2fb129713c4facba86&id=69504639fb&e=8d5a642e5c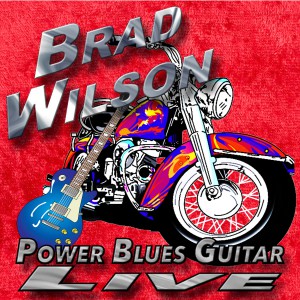 DISCOGRAPHY
2013 > Hands On The Wheel
2015 > Blues Thunder
2016 > Power Guitar Blues Live
TRACK RECORD IN HIT-TRACKS TOP 100
# 05 in 2014 > Hands On The Wheel
# 07 in 2014 > The Ballad Of John Lee
# 06 in 2014 > Blues Magic
# 20 in 2014 > Hot Stuff
# 01 in 2015 > Step By Step
# 01 in 2015 > Change It Up
in 2016 > Black Coffee At Sunrise
in 2016 > All Kinds Of A Fool – live
# 05 in 2016: Let's Go Barefootin' It
"Hands On The Wheel" #6 in Year End List Albums 2014
"Blues Thunder" #7 in Year End List Albums 2015
http://cdbaby.com/cd/bradwilson27