With a voice and classic writing style reminiscent of torch singers past, Kareña can belt out those blues or sizzle with smoky jazz vocals.
Hailing from the north of England originally, Kareña came up through the big band scene there before embarking on what became an international music career that has taken her far and wide, including an appearance at Dubai Rock/Blues Festival with her blues band Nightcalls.
Now settled back in the UK she is currently working on her solo album and warming up the new line up.
Kareña is also involved in multiple recording projects with Wily Bo Walker, including 'Moon Over Indigo', WBW's solo album, which involves some of the finest musicians from across the globe released September 2015.
When The Angels Call Your Time, a track from the album was featured on the covermount CD of Blues Magazine in July 2014.
Kareña and Wily Bo released a 6 track mini album in December 2014, which is getting heavy radio play across the globe, on prestigious blues shows and gaining excellent press reviews. Love Will Find A Way, a track from the album was featured on the covermount CD of R2 Rock'n'Reel Magazine in March 2015.
Long Way To Heaven was runner up in the final nominations for the 2015 British Blues Awards for Best Blues Song.
Kareña's backing vocals feature on 'Stone Cold Beautiful' the new album from Wily Bo Walker and E.D Brayshaw.
Kareña also performs with mad cap festival favourites, and IBBA 2014 nominated band 'Rattlin Bone', as M.D, backing vocalist/second lead and backing vocal arranger. The début album 'The Life and Death Of…' was released in 2011 and is still extremely popular with a new album on the cards for 2016.
Also keyboard player/backing vocalist with The Mescal Canyon Troubadours , whose track Chattahoochee Coochee Man was featured on the covermount CD of Blues Magazine, in Dec. 2014.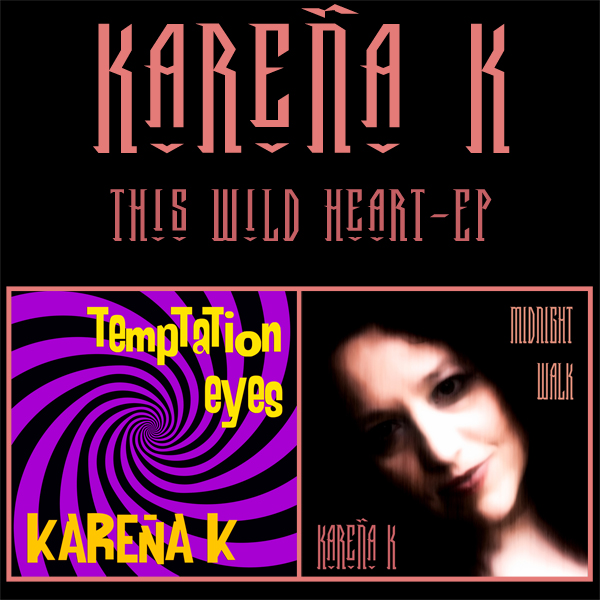 Midnight Walk and Temptation Eyes, début tracks from her forthcoming solo album, produced by Wily Bo Walker, are currently on release, plus three limited edition taster tracks, which can be found on Bandcamp and Nimbit
More to come in 2016 including live shows with her own band,
The album Wily Bo Walker And The Danny Flam Big Band and a Wily Bo Walker single, I Want To Know, both feature Kareña's backing vocals and backing vocal arrangements and were considered for the 2015 Grammy's.
Kareña was consistently in the Top 10 of the Myspace Jazz and Blues charts both in the UK and US, achieving the number one spot several times in 2012/13.
The trilogy of albums released last year is now available as The Wily Bo Walker Story Vol. 1 and 2 including some additional tracks for which Kareña also arranged and sang backing vocals.
Line Up
Kareña K – vocals/sax
Alan Taylor – guitar
Darrel Welch – guitar
Spencer Blackledge – drums,
James Fox – Bass
TRACK RECORD IN HIT-TRACKS TOP 100
2014 > Love Will Find A Way (with Wily Bo Walker)
2014 > Light At The End Of The Tunnel (with Wily Bo Walker)
2015 > Long Way To Heaven (with Wily Bo Walker)
2015 > Battered And Blue
2016 > Temptation Eyes