Londoner WILY BO WALKER, originally hailing from Glasgow, Scotland, is a solo artist, songwriter, composer and performer noted for his characterful vocals and swaggering 'live' performances. He works across many styles and genres; blues, rock, soul, alternative, soundtrack and jazz. He is the frontman with his 'New Orleans blues festival band' Rattlin Bone ánd his roof lifting funkin' rock blues band The Mescal Canyon Troubadours and works also with vocalist, Kareña K and their duo Blue Valentines.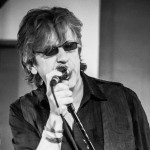 Recent Achievements
Nominated for Best Male Vocals in the 2014 British Blues Awards.
Rattlin Bone nominated for Best Band in the 2014 British Blues Awards.
His album "Wily Bo Walker & The Danny Flam Big Band" (Nov 2013) received worldwide critical acclaim and was considered for a 2015 Grammy nomination.
No 1 Blues, Jazz & Classic Rock artist in the US and Worldwide MySpace charts (Jan 2013).
Nominated British Blues Awards 2015 for Best Blues Song 'A Long Way To Heaven'.
2016: Induction to the US Blues Hall of Fame.
With 12 charted tracks within one year and a half in the Hit-Tracks Top 100 we can easily name Wily Bo Walker as one of the big surprises of 2014/2015.
"Moon Over Indigo", his third album of 2015 is released on September 25.  Another cooperation with Grammy Award winning musician and arranger Danny Flam and a host of talented musicians. Another trilogy is announced for 2016. We can expect new albums with the Mescal Canyon Troubadours and Rattlin Bone.
Watch out for his one-man swamp 'n' stomp blues show 'Welcome to Voodooville' which Wily Bo Walker will be taking on the road late 2015 and a further new solo album "Some People Kill for Passion: Welcome to Voodooville" which will be released in the new year. An album of cigar box guitars, swamp 'n' stomp blues and tales of murder and mayhem!
Wily Bo Walker is besides his one-man show, live available as a duo and, of course, with his full blues/rock backing band featuring E D Brayshaw.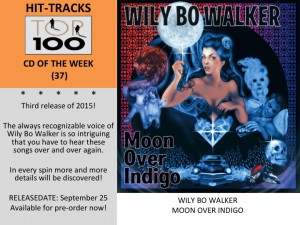 PICA PROMO by Ron Pennings
http://us11.campaign-archive2.com/?u=566004e2fb129713c4facba86&id=94cbbd7165
Review Walter Vanheuckelom – Concert Monkey – Belgium
http://www.concertmonkey.be/reports/cd-review-wily-bo-walker-moon-over-indigo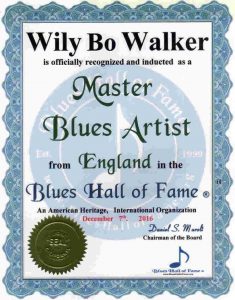 Track Record in Hit-Tracks Top 100:
#17 in 2014 > When The Angels Call Your Time (with The Danny Flam Big Band)
#41 in 2014 > Drive (with The Danny Flam Big Band)
#84 in 2014 > Rain On My Footsteps (with Rattlin Bone)
#41 in 2014 > Walking With The Devil (with The Mescal Canyon Troubadours)
#48 in 2014 > Love Will Find A Way (with Kareña K)
#88 in 2014 > Light At The End Of The Tunnel (with Kareña K)
#17 in 2015 > Long Way To Heaven (with Kareña K)
#07 in 2015 > Storm Warning (with E D Brayshaw)
#07 in 2015 > Killers On The Run (with E D Bradshaw)
#11 in 2015 > September Red (with E D Bradshaw)
#01 in 2015 > Who Do You Love – new york chiller mix
#08 in 2016 > I Want To Know – new york funk mix
#06 in 2016 > Long Way To Heaven – chicago gospel mix (with Brown Sisters Of Chicago)
current hit > For The Children