NEW ALBUM: Rain > Spacepirates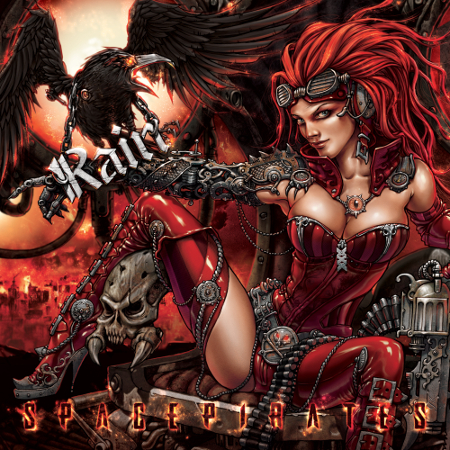 The Italian hard rock band RAIN is founded in 1980. In their early years they played mainly heavy metal and performed live mostly in Bologna, the hometown of all the first members of the group.
Inspired by a trip to Mexico RAIN recorded in 2013 a semi acoustic album "Mexican Way" with 12 tracks of acoustic rock with a strong Mexican vibe, lyrics in Spanish and English and with the atmosphere from cult movies like "El Mariachi" and "From Dusk 'til Dawn". The album received excellent reviews from all over the world. With three top 10 hits in a row in the Hit-Tracks Top 100, two of them peaked at #1, the album ended as number 3 (!) in our album year end list of 2014. Just behind Beth Hart & Joe Bonamassa's "Live In Amsterdam" (1) and "High Hopes' of Bruce Springsteen (2).
"Spacepirates", the new upcoming studio album, will end the "trip/journey" trilogy started with XXX (2011 – a trip in the past), followed by "Mexican Way". "Spacepirates" will project RAIN to the future, with a much harder and violent journey that could give rise to a timeless anarchic revolution, an excursion needed to balance a badly crumbling, drifting World.
"Spacepirates" features 9 excellent tracks of pumped-up heavy rock with a killer mix of crushing guitars, catchy hooks and heavy beats. A musically varied album, "Spacepirates" is unabridged and mature, for some it is modern and fresh, for others it is classic RAIN old-school style. The album is produced by Gabriele Ravaglia (Blaze Bayley, Extrema). The cover artwork is made by Umberto Stagni.
Aural Music will release "Spacepirates" on April 15th. Pre-orders will start on April 1st at: www.auralwebstore.com.