The Covenant is a very talented DIY-band since 1988, protected themselves from exploitation, live rockband pur sang with a very rich history and following through original songs (7 albums) and outgoing/extrovert performances. According to music magazine OOR:
"the last original Dutch Undergroundband".
And what a turbulent season it was for "The Cov": superreviews on their new album "The Story Of Bloody S. Cash", a new drummer, drummer Chris Heemskerk died 3 July this year, many intens performances wich caused a groin rupture with thesinger of the band, who has gone through surgery, he will be back on the team in August. Great ending of the season at 19th of June, they played support-act for Extreme at De Melkweg in Amsterdam only just surviving a tsunami of compliments. Just like after the support-gigs with Pearl Jam (twice!).
Busy booking gigs for coming season '14/'15 wich will bring them, apart from The Netherlands, to Germany and Belgium.
"The new Triggerfinger is born!", "This is what you hope to see and hear when you go out to see a rockband". The Covenant is doing her 7th albumtour Escape From Mental Care. Reviews on the album are ridiculously positive: "A gap in your collection if you don't have this album at home".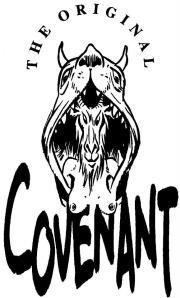 Dutch
The Covenant uit Amsterdam is een zeer talentvolle Do It Yourself-band opgericht in 1988. Een live rockband pur sang die inmiddels kan putten uit een repertoire van enkel eigen nummers afkomstig van 7 albums. Volgens het toonaangevende muziekmagazine OOR: "de laatste echte Nederlandse Undergroundband".
De afgelopen maanden waren zeer bewogen voor "De Kof": het uitkomen van het nieuwe album "The Story Of Bloody S. Cash", welke superrecensies krijgt, het overlijden van drummer Chris Heemskerk op 3 juli j.l., het inwerken van de nieuwe drummer, veel intense optredens en de zanger moest een liesbreuk operatie ondergaan. Half augustus is hij gelukkig weer speelklaar. Op 19 juni j.l. was de band support van Extreme (More Than Words) in De Melkweg/Max. Eerder waren ze al twee keer support act van Pearl Jam. 
Ter promotie van het nieuwe album zal The Covenant ook o.a. België en Duitsland aandoen.
Frank van der Reep – zang
Peter Stap – bas
Marcel van Riessen – drums
Hans Koomans – gitaar