Being honored as one of the most soulful guitarists in Arkansas, and staying on the road for 40 years, 2015 will bring Joe back to where it all began. With a band full of world class players, JPB is at the best it's ever been. Al Hagood (bass) and Chris Moore (drums) are long time musicians with Joe and they have played thousands of shows, and with the addition of Stuart Baer (Son Seals, Dr Hector and the Groove Injectors with Dru Lombar) on keys, sealed the sound that started it all for the JPB. Southern soul, as some people call it. Call it what you want, it's music. It's real, and it's made by musicians that live and love the life that brings them to where they are today. 
January 2015 will bring in a brand new studio CD, "Axe To Grind", and the 10th CD that Joe has recorded. It's back to the beginning, and when you see a show, you'll know, that the music today, was fueled by a love of the music from their past.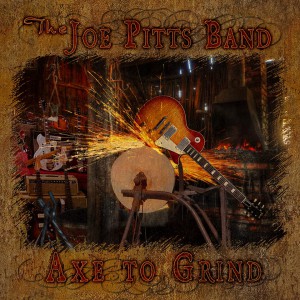 Touted as one of Arkansas' best band of musicians, with 9 CD's, 14 World Tours and constantly touring the Midwest and Southeastern US…… just see a show and find out why Joe is considered one of today's most impassioned musicians. The band is made up of world class touring musicians that are some of the most consummate professionals in the business. See a show and you'll see why Rusty Edwards, Executive Director of the "Weather Report Legacy Project", says, "The JPB… the reason God created Arkansas".
Joe Pitts – Guitar/Slide/Vocals
Al Hagood – Bass Guitar
Chris Moore – Drums/Percussion
Stuart Baer – Hammond Organ/Keys
For more information on the JPB, please visit their official website at :
www.joepitts.com or www.joepittsband.com