Born in the southern part of Sweden (Helsingborg) Miqael Persson a.k.a. Hicks grew up with a dream of making a living on his music. Playing in local bands he wrote music, toured and learned the chops as an artist and songwriter. He soon moved to Stockholm to pursuit his dream of being a songwriter. The succes started when the Swedish band Barbados recorded one of his songs. The album went Gold and the band got a Grammy for Best Album. Pretty good start as a songwriter. Since then he has picked up more Gold and Platinum albums.
Hicks kicked off 2013 with two European hits on the European Country Top 40, he then represented Sweden at the CMA Global Show in Nashville along with various acts from around the world and all the top American country artist such as Taylor Swift, Keith Urban, Lady Antebellum Tim McGraw and many more. This event was beamed live around the world via the Internet and audio streams to over 10 stations in the USA, Europe, and Australia. He then was asked to appear at two of CMR Nashville's International Shows on Broadway. He was also invited to be part of the CMA Fest Autograph signings at the Digital Rodeo booth with thousands of fans walking around in the brand new Music City Venue, one of the biggest exhibition venues in the world. More to follow when asked to appear as a special guest at 'A Night For Heroes' a fundraiser for returning soldiers. In 2014 he scored hits with
Hicks is also an accomplished songwriter with most of his live material being written by himself and other co-writers. Whilst in Nashville he was able to co-write with top songwriters like Anthony Smith, Dallas Rogers, Dennis Morgan and Sharon Vaughn. Bands and artists such as the Little River Band (Cuts Like A Diamond), Jimi Jamison (Survivor) Giant (Dann Huff) Bobby Kimball (Toto), W.E.T (featuring Jeff Scott Soto) and Grammy nominated Toby Hitchcock have recorded his songs.
AWARDS:
Favorite Country Group IMN Country Music Awards Nashville 2012
European Country Act Of The Year at British CMA London 2013
Best International Country Artist ICoMA Country Music Awards Nashville 2014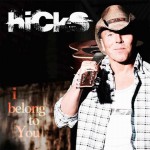 The new single 'I Belong To You', written by Hicks, Erik Martensson and Jörgen Elofsson, is without a doubt a huge summer hit!
TRACK RECORD IN HIT-TRACKS TOP 100:
2014 > Hayride
2015 > Mama's Kitchen
2015 > I Belong To You