Although a Los Angeles, California based band, Jack Roberts Harvey Band's music is firmly rooted in the sounds of the American south and Midwest, where band members, Tony JACK Grigsby (bass guitar), Jim ROBERTS (slide guitar and vocals) and Mike HARVEY (drums and percussion) honed their musical chops.
Encompassing a full range of styles, Jack Roberts Harvey Band can take you from the front porch of Clarksdale, Mississippi to the South Side of Chicago….and all points in between. They are equally at home rocking the house or performing an intimate ballad. Their sense of humor on stage is contagious and they are clearly having a great time doing what they love…bringing toe-tapping musical joy to audiences near and far. The musical roads of the universe have finally brought these "brothers from different mothers" together to make a sound you gotta feel to know its right!
It's time to get low-down with the fresh but well-traveled trio. The groove, the soul, that attitude we all relate to lives strong here, and is transmitted with pure grade-A authentication. Their music has been described as blues/rock, roots/rock, southern rock and even country. With the release of their debut CD, "Devil On A Dirt Road," JRHB is now ready to share that music with the masses.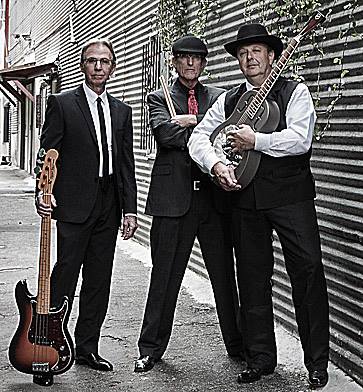 Jim Roberts
Jim has written songs for, and performed with, Seals and Crofts and Arista recording artist Danny Deardorff. He has also opened for Danny O'Keefe, Della Reese and Ricky Nelson.
Mike Harvey
Harvey was a studio musician and producer in Los Angeles and worked as a contract player with Edwin Star (War, Eye to Eye Contact) and "Sam The Sham And The Pharaohs" (Woolly Bully, Little Red Ridinghood) and played drums on the Movie Soundtrack "Cruising" with Al Pacino.
Tony Jack Grigsby
Having played from California to New York, in and out of the studio backing recording artists, Tony Jack has returned to his roots relocating back to southern California to join talents with Mike Harvey and Jim Roberts.
TRACK RECORD IN HIT-TRACKS TOP 100
2015 > Devil On A Dirt Road
2015 > Quicksand
2015 > Tears In The Dust
2016 > Dark Down In The Delta