Blues Rock from Detroit!
Listening to Paul Lamb and the Detroit Breakdown is a musical time capsule. It will take you through the drive and riffs of the 70's, but also has the modern pulse that comes from recording at the legendary Rust Belt Studios (Kid Rock, Uncle Kracker) that keeps it all fresh.
Paul Lamb and the Detroit Breakdown have been nominated in the "Best Overseas Artist" category in the British Blues Awards 2014!
The line-up of Paul Lamb [guitar and vocals], Layla Hall [drums and backing vocals) and Joey Spina [bass and backing vocals) have cut their teeth performing hundreds of shows across the US, as well as playing Glastonbury and touring with Walter Trout, Peter Green and many others.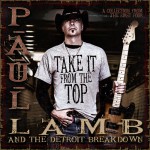 Their fifth album "Take It From The Top" is release on 5 May 2014 through EE Records. A musical compilation of their first four albums. The songs selected for this collection are an amalgamation of the songs that have gotten the most radio spins and those that are the most requested live. The remastering was done by the illustrious Motown and United Sound engineer Ed Wolfrum. A new album is scheduled for May.
Paul Lamb & The Detroit Breakdown is touring Germany, Belgium and The Netherlands in June! Please contact us to check availability!