Hailing from Southern California, singer/songwriter/composer Lawrence Lebo is an artist who is enthralled with and dedicated to American Blues & Roots Music. In a career that has lasted over a couple of decades, Lawrence has followed up with 4 additional successful self-releases.
Her journey began with her critically acclaimed debut EP titled "Lawrence Lebo & Her Little Big Band: Don't Call Her Larry". With the release of her first collection, Lebo interpreted eclectic 30's and 40's big band blues, using the vehicle of an eight piece "Little Big Band" surprisingly comprised of traditional bluegrass instrumentation, creating a hybrid of Americana Blues/Jazz/Roots, with vocals extraordinaire! Ace banjoist Pat Cloud's Charlie Parker influenced banjo work is not to be missed. On "Don't Call Her Larry, Volume 2 she swings, scats and moans her way through both originally penned compositions, and originally arranged classics that run the gamut from contemporary jazz, acoustic swing, to rocking electric blues. The 3rd release "Don't Call Her Larry, Volume 3: American Roots" is a true work of art. The stellar vocalist goes minimal, bar-room-raw, bares it all, and in one CD delivers tightly crafted hybrids of acoustic blues, bass & vocal jazz, swing and folk! Her latest "The Best Of Don't Call Her Larry: Blues Mix" was released in October 2012. By request, and hand picked just for Blues lovers. Lawrence Lebo is besides several great musicians backed by her husband Denny Croy (upright bass) who played with Doug MacLeod and the Brian Setzer Orchestra. At this moment Ms. Lebo is in the studio finishing up her next release.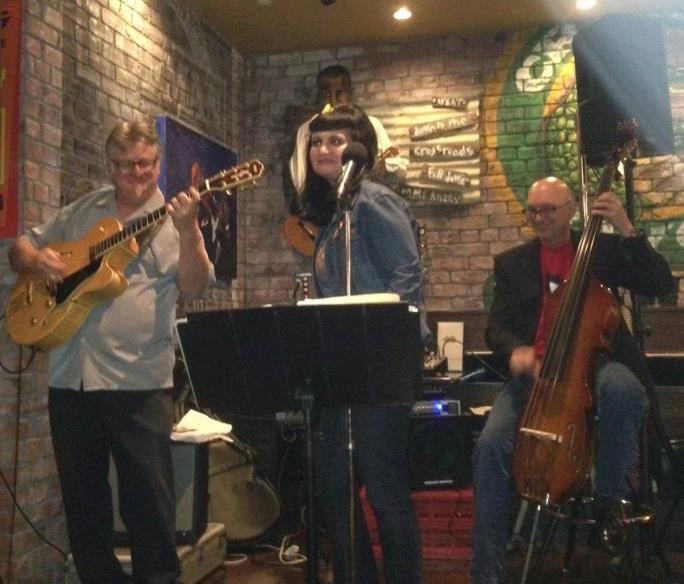 Blues, Roots and a little jazz, Lawrence Lebo is one hot original mix of the traditional American musical pallet! Intellectually curious and stubbornly original, Lebo strives to explore American Blues & Roots music and develop her art in ways that defy categorization. She isn't rich. She isn't privileged. She isn't related to anyone famous. She's been a teenage bride and she's been a single mother. She's never had the help of an established record label or an agent. She does it all on her own and she stays in the game by relying on her talent.