Michèle Choinière is an award winning Smithsonian Folkways recording artist. She sings and performs traditional and original Franco-American and Quebec folk songs, jazz standards and covers of well-known artists (e..g. Edith Piaf).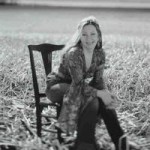 Michèle was born into a musical Franco-American family in northern Vermont, and from an early age performed traditional Franco-American music with her father Fabio, an accomplished harmonica player. In 1995, she began writing and composing her own songs and has performed to audiences throughout New England, Quebec and France. Her lyrics and music focus on nature, romance and social issues connected to being Franco-American. She has been featured on TV5 International's "Visions d'Amerique," which was broadcast to francophone nations worldwide, as well as on Vermont Public Television's "Rural Delivery" and has recorded an archival family collection of Franco-American music with her father. She is featured on the Smithsonian Folkways CD "Mademoiselle Voulez-Vous Danser: Franco-American music from the New England Borderlands" released in 1999. In 2003, Michèle self-released her debut solo album "Coeur Fragile", which was recognized as one of the top ten Vermont albums of the year for 2003 by Seven Days newspaper. Her second studio album "La Violette" is released in 2010. Three tracks of this album were charted in Hit-Tracks Top 100: 'Tant Mon Mari' (peaked ad #18 in 2011), 'La Bergere Encore' (#23 in 2012) and 'Par Un Samedi Matin' (#85 in 2012).
Among other accolades, Michele has appeared e.g. in concerts at the American Folk Festival (Bangor) and Lowell Folk Festival (Lowell, Massachusetts). She is a recognized 'master artist', having been awarded the prestigious and competitive Governor's Heritage Award in 2007. She is also a member of the Vermont Arts Council's American Masterpieces program, as well as a juried Arts Council performer and teaching artist.