De Gelderse band the GRiT staat bekend om zijn aanstekelijke rockmuziek. Het repertoire van de band is gevarieerd: van klein en ontroerend tot vette, stevige groove rock.
In 1997 besloten Michel van der Krabben (vocals & bass) en Jeroen Settels (guitar & backing vocals) hun muzikale krachten te bundelen. Met de oprichting van the GRiT legden zij de basis voor de melodieuze en krachtige rockband die de band uit Warnsveld vandaag de dag is. De line-up wordt gecompleteerd door Twan Beerden (guitar & backing vocals), Cynthia Bal (backing vocals & acoustic guitar) en Ramon de Winter (drums). Van der Krabben is doorgaans het creatieve brein achter de lyrics en melodielijnen, die vervolgens door de gehele band worden uitgewerkt tot een compleet arrangement. 
In 2005 verscheen op Itsyourrecord van Evert Nieuwstede (Urban Heroes) het debuutalbum "No.One", dat meteen op de eerste plaats belandde in de Nederlandse CD Top 50. De singles 'Wanna Make You Mine' en 'Something About You' zijn gedraaid door o.a. Kink FM-dj Jan Douwe Kroeske en 3FM-dj Giel Beelen. In 2006 doken de heren van the GRiT de studio in voor de opnames van hun tweede album "Changes" welke in 2007 uitkwam. De vruchtbare samenwerking met Itsyourecord en de daaruit voortgevloeide landelijke aandacht deden the GRiT besluiten in 2009 en 2010 wederom in zee te gaan met het label van Evert Nieuwstede. In 2011 was the GRiT de begeleidingsband van Rich Wyman, Ook is de band te zien en te horen in de videoclip van Rich Wyman's 'Good company', DE Hit-Track van het jaar 2011 in Hit-Tracks Top 100.in 2013 is het nieuwste album "Lucky 13" uitgekomen en de band is momenteel druk bezig met de promotie van dit album met bijbehorende singles en videoclips. Tot nu toe heeft the GRiT 7 maal  de Hit-Tracks Top 100 weten te halen.  Live krijg je wat je van the GRiT mag verwachten: energiek en in your face. Volgens velen is the GRiT een zelfverzekerde band die het publiek van begin tot eind vasthoudt en waarbij het moeilijk is om stil te blijven staan.
Huidige line-up:
Michel v/d Krabben – vocals & bass
Jeroen Settels: guitar, vocals
Yana Suryana: Guitar
Ramon de Winter – drums
The Grit is known for his infectious rock music. The repertoire of the band is varied from small t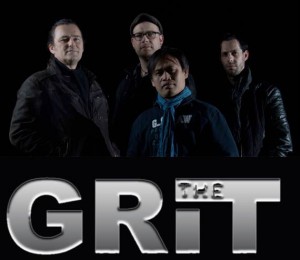 o bold and moving, rock steady groove. Van der Krabben is usually the creative mind behind the lyrics and melodies, then the entire band develop it into a complete package in the typical Grit-style: melodic songs with constructive often explosive choruses.
In 2005, The Grit released their debut album "No.One" on the Itsyourrecord label from Evert Nieuwstede (Urban Heroes). It landed straight on the first place in the Dutch CD Top 50. In 2007 The Grit released their second album "Changes". The next year was mend to be completely dominated by a promotional tour for "Changes" but was tragically cut short by an accident that left singer/bassist/songwriter Michel with a multiple jaw.
In 2011 The Grit toured with the fantastic American rockpianist/singer/songwriter Rich Wyman. Both can be seen in Rich Wyman's video clip 'Good Company' which was the hit-track of the year in 2011 in the Hit-Tracks Top 100 (8 weeks at #1). They also shared the stage more than once with Herman Brood's guitarplayer Jan Willem van Holland.
In November 2012 the Grit went back to the studio to record their third album to be released in 2013. The work title was therefor "13". When The Grit's original guitarplayer and co-founder Jeroen Settels broke his arm on the last day of the recording sessions, they decided to name the album "Lucky 13".
LIve you get what you can expect. The gigs are energetic and in your face. According to many, The Grit is a confident band that grabs the audience from start to finish, and where it is difficult to stay seated.
TRACK RECORD IN HIT-TRACKS TOP 100:
2011 > By My Side
2012 > It's So Easy
2012 / 2014 > One Day
2013 > You Never Told Me – part 2
2014 > I Still Do
2015 > Damn You
2015 > Escape