Poplar Jake & The Electric Delta Review play original songs by Poplar Jake as well as the more traditional blues repertoire. Their debut album "See What You Done" has just been released. Building on the success of their 2014 single and 3-track EP 'No More Sognifyin'", the band have combined their reverence for traditional blues themes with flashes of wit and originality in their arrangements. Here is the authoritative drumming of Dave Sims, the fat-bottom bass of The Duchess, the keening harmonica of Dan Collins and the unique guitar and vocal of Poplar Jake. Meet the country blues through Fender amps with a water-tight rhythm section. The ethic of the band is ensemble playing, instrumental breaks lend something extra to the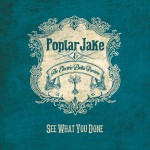 song rather than overwhelming it, nor is the song ever a mere platform for the solo. Though coming from different backgrounds and bringing with them very different approaches to the blues, the four musicians work together through a healthy mutual respect and willingness to learn from each other. The aim is a simple one: It's gotta move people!
"See What You Done" has been selected as IBBA Album of the Month May! That means that over 40 members of the UK Independent Blues Broadcasters Association will feature tracks from the album during their shows in May and June. The track 'Swamp Thing' hit the top 10 in Hit-Tracks Top 100.
Poplar Jake, born in Poplar – East London, has a burgeoning reputation as a solo artist with two albums (Ridin' The Blues – 2011; From The Delta To The Docks – 2013) released to critical acclaim.
Dan Collins has been playing harp for 25 years. Throughout his playing career Dan has performed with countless bands and artists encompassing a wide range of musical styles and genres, but Dan always finds himself coming back to his original love for the blues, in its purest and rawest form. 
The Duchess played with the North Holland youth symphony orchestra. She studied Music Therapy, while also taking Flamenco dance lessons in Amsterdam. Now she is developing her own style, finding her way on the electric cello.
Dave Slims' drumming style is very simple and straight ahead. He prefers to concentrate on the groove and is laying down a firm foundation for his fellow musicians to play on top of.
Prepare to be moved