Cheryl Barnes, grown up in Cleveland and now living in Pasadena CA. Her classical vocal training – starting at nine and continuing through college – lead to appearances with symphony orchestras in Denver, Florida and Wisconsin. The rigorous program reinforced her innate abilities and enabled her to move with ease between musical genres. But for Cheryl, all led back to jazz.
Cheryl is the 2015 Winner of the Black Women In Jazz & The Arts Award in two categories: Best Black Female Record of the Year and Best Black Female Video of the Year. Both for the song 'Like Jazz', the opener of her album "Listen To This". Produced by Rahn Coleman and also featuring the impassioned piano playing of her husband Phil Cabasso, "Listen To This" was patiently rendered over a 5-year period, prepared with tender loving care utilizing Los Angeles' finest, including soloists saxophonists Rickey Woodard and Pete Christlieb, pianists John Hammond and Joel Scott, and trumpeter Nolan Shaheed.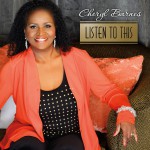 From the hippest of contemporary faire like 'Come With Me' and 'What's On Your Mind' (written by Glen Ballard & Kerry Chateto for George Benson's album "Give Me The Night") to choice standards such as 'I Wish You Love' (dedicated to the memory of Gloria Lynne), 'Why Did I Choose You' (inspired by Barbara Streisand's rendition), and the beautiful 'Come In From The Cold', Ms. Barnes brings a singular warmth and empathy to every line she sings, engaging listeners from a purr to a power belt.