The story of the French band Dygitals began in 1984, when guitar player Khalid Karbichi and vocalist Hervé Traisnel started the band Eunect. After its first line-up break the name was changed into Dygitals. Gérard Robin, Alain Clouet and David Dugaro completed the band. They rapidly garnered a reputation as a rock-solid live band, which lead to a busy touring schedule, opening for well-known acts, performing at prestigious festivals. Dygitals played in that period a very heavy style, influenced by bands like Iron Maiden, Accept, etc. 
By the end of 1985, Khalid Karbichi left the band. In 1986 Dygitals were ranked among the 10 best new French bands in a poll organized by ENFER MAGAZINE. Without any official release to their credit! In early 1987, Gérard Robin left and was replaced by Laurent Bigot. By then their music evolved in an unique transatlantic metal mixture, influenced by bands like Bon Jovi, Def Leppard, RATT and Mötley Crüe. Their first album "Love Games", was recorded and mixed, but was never released. In late 1990, the members of Dygitals decided to put an end to the adventure. However, in 2009 Hervé and Alain decided to give Dygitals a re-birth. A first album was released in October 2012: "Avé".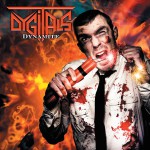 The brand new album, on Mausoleum Records, has just been released in the U.S. Europe will follow on May 21. Track 'Everybody Knows' is already charted in Hit-Tracks Top 100.
Current line-up:
Hervé Traisnel (lead vocal)
David Dugaro (guitar)
Jean-Marc Lavayssiere (guitar)
Jack Gayffier (bass guitar)
Alain Clouet (drums)