Portland' jazzy blues singer / songwriter Karen Lovely shot onto the blues scene with a 2nd place at the 2010 International Blues Challenge followed by three 2011 Blues Music Award Nominations for Best Contemporary Blues Female Artist, Best Contemporary Blues Album and Best Song for her sophomore release "Still The Rain".
She is a two time "#1 Pick to Click" artist on XM Radio Bluesville and was selected as a 2014 Featured Blues Artist of the Year by KJZZ FM in Los Angeles. Lovely's records have topped the national blues and roots charts and made the Top 10 favorite artist list for dozens of nationally syndicated radio stations.
Kno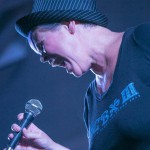 wn for her passionate, driven performances, this powerhouse vocalist delivers a blistering mix of contemporary & old school blues. Lovely's standout performances have garnered awards and critical acclaim at festivals and venues throughout the US, Canada and Europe. Her 2014 release "The Prohibition Blues", recorded live at Jimmy Mak's, Portland OR, has been nominated for the Blues411 "Jimmi" Award for Best Traditional Recording and was nominated for the "Muddy Award" for Best NW Recording as well. The album is a loving tribute to the classic female blues artists of the Prohibition era. Features songs made popular in the 1920s & 30s by Ma Rainey, Bessie Smith, Billie Holiday, Alberta Hunter and Victoria Spivey.
NEW ALBUM: Karen Lovely > Ten Miles Of Bad Road
TEN MILES OF BAD ROAD performed by Portland, OR based vocalist Karen Lovely features 13 outstanding tracks of Contemporary Blues. One of them is Karen's version of 'Company graveyard', written by Grammy nominee Alan Mirikitani, earlier this year a top 10 hit for Mike Osborn. Two tracks are penned by Ms. Lovely. She co-wrote on seven others. The album is produced by Grammy winner Tony Braunagel, and includes a heavy hitting group of award winning LA session musicians.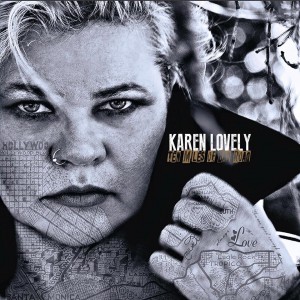 Johnny Lee Schell plays some seriously spooky guitar and burns his classic signature style on to half the tracks and holds down the engineering. James "Hutch" Hutchinson brings his fluid, funky, musical style of bass playing, providing a rich bottom and cleverly orchestrated feel. On piano and B3, Jim Pugh is funky, tight, and sensitive on the ballads. Tony Braunagel plays drums and percussion with the same passion and flair that has graced the albums of artists like Bonnie Raitt, Taj Mahal and Robert Cray. Also lending some nasty grooves and plenty of grease, Alan Mirikitani aka B.B. Chung King on guitar, bassist Reggie McBride, Kim Wilson of the Fabulous Thunderbirds on harp, and Portland's Vyasa Dodson on guitar.
TRACK RECORD in Hit-Tracks Top 100
2015 > Last Kind Words
2016 > Low Road