Lady Bianca is a master blues vocalist and musician born in Kansas City, Missouri, United States. With a father teaching her Texas blues piano as a child, Lady has evolved into an icon in the San Francisco Bay Area where she's known as "Queen of the Blues and Gospel". She has worked as a session singer, depicted Billie Holiday on stage and sang, recorded and toured the world with Van Morrison for a decade as well as playing for John Lee Hooker and as featured vocalist with Frank Zappa.
With her partner, Stanley Lippitt, she has written over 300 songs and produced, arranged, and recorded since 1995 8 solo albums, three of which were nominated for a Grammy Award. Her latest CD is the 2014 release "Real People Music" on her own Magic-O Records label (Home of the Mighty Oakland Sound). Leading track 'Missing You' is charted in the Hit-Tracks Top 100.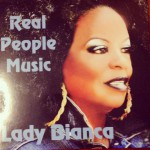 (Little) Stanley Lippitt is a highly respected r&b and blues songwriter, publisher and recording artist from Oakland, California. His recordings span over four decades. Alongside his recording and production work, Stanley can now be seen regularly touring with his wife.
Oshmin Oden is a very accomplished bassist both in rhythm and blues and gospel. He has backed Joe Louis Walker.
Joey Truso is a multi-talented drummer, Instrumentalist, and vocalist. He is an experienced side man who has played with national and local artist such as the Whispers, Jean Carne and Obie Woodson of the Temptations.
Kenya Baker is the new guitar player. On the album you hear by the way Charles Spikes.
Award winning guitarist Kenya Baker grew up in Oakland and has been a touring musician for most of his life. From 2006-2010, he toured internationally as lead guitarist for Grammy Award winner Joss Stone. Kenya began his career as a teenager touring on the gospel quartet circuit. Then he became immersed in the Oakland R&B scene in its heyday and played with the finest Oakland musicians, including Lucy Pearl, Digital Underground and Tony!Toni!Tone!. Kenya is a multi-talented musician, composer and music producer. He has a gold album for his original song "Top of the World" (under the name Kenya Gruv) which is featured on the Menace II Society soundtrack, and a platinum album for his collaboration on "The Revival" by Tony!Toni!Tone!. He's worked with other notable artists including Tupac Shakur and Eric Benet. Since gaining custody of his two sons in 2011, Kenya now plays throughout the Bay Area with his solo "acoustic" show and leads his band, the Kenya B Trio, playing funk, blues, jazz, R&B, and soul.