Authentic Blues from Chicago!
Carl Weathersby was born in 1953, in Jackson, Mississippi and moved to East Chicago, Indiana with his family when he was eight. A friend of his father, Albert King (!), offered some welcome encouragement to Carl and took a liking to the young lad. After his tour of duty in Vietnam, Carl Weathersby was Albert King's rhythm guitarist between 1979 and 1982, and then spent some 15 years with Billy Branch's Sons of Blues as lead guitarist before striking out on his own. 
Carl released 7 solo studio albums and one live album (In The House; 2004) which was recorded at the Lucerne Blues Festival in Switzerland, when he was joined by the harp player and past band mate Billy Branch. His debut solo album "Don't Lay Your Blues On Me", was in 1997 nominated for the W.C. Handy 'Blues Album of the Year' award. In 2006 re-named in The Blues Music Awards presented by the Blues Foundation to increase public appreciation of the significance of the awards. His latest release "I'm Still Standing Here" was released in 2009. He was sideman and guest performer for many artists and on many albums. Most recent was his contribution to the album "Warning Shot" of Mississippi Heat in 2014.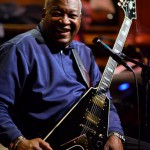 Mixing Southern charm, soulful vocals, and fierce guitar-playing, Carl plays the blues, from down-and-dirty to scintillating Albert King influenced chops. This is one powerful blues performer that will leave you amazed and thoroughly entertained.