Tim Jones grew up surrounded by bands like John Mayall's Bluesbreakers, Fleetwood Mac, Chicken Shack and touring American artists like Freddie King, BB King, Albert King and Howlin' Wolf. In the 1980s he worked with a number of his earlier heroes when he was asked to join Mainsqueeze. In this band he toured Europe and Scandinavia alongside Victor Brox, Dick Heckstall-Smith, John O'Leary, Dave Moore, Keith Tillman and Stretch. A few years later he was called to be part of Bo Diddley's band on tour in England, Europe and Scandinavia.
After ten years out of the country Tim Jones is back with an album of new songs written in Córdoba, Spain. He returned to England in the summer of 2014 to search for suitable musicians to record "Home Again". He found drummer Sam Kelly and Andy Hodge for bass available and the Tim Jones Band was born.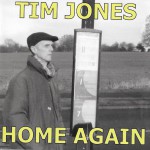 Sam Kelly's playing career started in the early 1970's with Cymande, an 8-piece 'Nyah Rock'/British funk band which achieved most of its success in the USA between 1971-1974. Sam's self-taught style of drumming has placed him in the drumseat with Cymande, Dr. John, Chaka Khan, Eddie Floyd, Robert Plant, Michelle Shocked and the late, great Gary Moore. Sam played drums on Gary's last R&B album, "Bad for you Baby". Besides running his own bands, Sam is also very much a part of Mick Ralphs Blues Band. With a delicate sensitivity to rhythm and a great understanding of dynamics in music, he has earned the respected position of Musical Director for Soul Britannia. Sam has also been honoured in Blues in Britain's "Gallery of Greats" after winning 'UK Drummer of the Year' for five years running.
Andy Hodge is undoubtedly one of the most versatile bass players in the UK and has been playing bass for over 25 years. He has been found playing in Delta Groove, Wonderbrass and Raw Glory to mention a few. Andy can often be seen lending his bass sounds to many Blues Jam nights around the Capital. His theatre show credits include Joseph, Home & Away, Fame and more than three years with Blood Brothers. Currently he can be found in the wings of the London West End Dominion Theatre "We Will Rock You" show, as he is now a dep for bass player Neil Murray (Whitesnake), and in a new fusion band with Russell Gilbrook (Uriah Heep) Jamie Humphries (The Brian May Band and We will Rock You) as well. Other tours include work with Lorna Luft, Dave Willetts, James D Ingram and Wayne Sleep.
First single 'Small Town' is charted in the Hit-Tracks Top 100.
Since the release of "Home Again", on May 22, the line-up has been augmented by Dave 'Munch' Moore on keyboards, an old associate of Tim's from the Mainsqueeze days. His contribution is making the band a phenomenal live act!