Lol Goodman Band is an Manchester based band playing original blues and rock inspired material. The band has existed in varied formats and with various musicians for nearly twenty years. For fifteen of those years James Horrocks has been an almost constant member either on second lead guitar or bass guitar. The addition five years ago of drummer, Jon Firth meant that Lol could continue to deliver the kind of sound and feel first formed in the towns and cities of the US and adopted by the great British bands of the late 60's a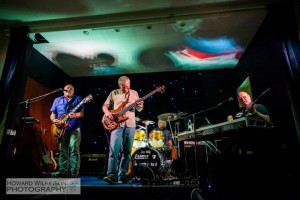 nd early 70's. The band regularly works the clubs, pubs and festivals of, mainly, the North of England performing their brand of gritty blues.
They have, since their formation as a regular gigging band four years ago, carved out a niche as one of the North of England's best live bands. Based in North Manchester and playing mainly blues/rock inspired original music, the band are out to prove that the blues genre is not only alive and well but evolving with some fine, well crafted material from Lol Goodman. Their first gigging experiences as a 3 piece was the North of England pub circuit, not ideal for a band featuring mainly original material, but they persevered and gradually built up a following and a core of venues where the audience appreciated their material.

Early in 2013 twelve original tracks were recorded and the result was the CD "Old Dogs 'n' Licks" which, for a first foray into the studio, got great reviews in national & international blues magazines etc. It also introduced the band to the listening public via local and web based blues radio shows and a live studio session at Trent Sound Radio. A year and 12 new songs later it was back to the studio where, with the help of old friends Rod Mayall (John Mayall's younger brother) on keyboards, David Turnbull, tenor sax and local session musician Phil Barrett, keyboards, another CD was produced and a name chosen – "TAUTOLOGY".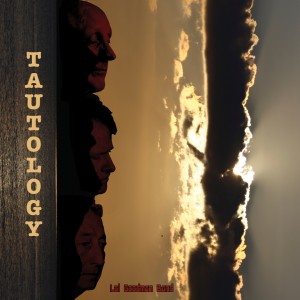 Lol Goodman – Guitar & Vocals: 
Many years ago in the North of England, a young man called Lol Goodman age 14 first started writing and performing his own material, strongly influenced by the Blues Rock bands of the late Sixties and Seventies and early American blues greats likeRobert Johnson, Muddy Waters, Memphis Slim etc. He has performed consistently in various bands and line ups for over 4 decades, including a 15 year spell working alongside James Horrocks where they have remained loyal to their Blues Rock roots.  Lol is a prolific live performer and songwriter, mixing his own material alongside blues classics, and the current line up of the band with Jon Firth on Drums, delivers a feel to his own material that remains unique to the sound and era of the great blues guitarists. Lol mainly uses a Fender Strat, Gibson Les Paul and Gibson ES335 for stage work and recording.
James Horrocks – Bass Guitar:
Playing guitar from age 13, James was in his first band at 15.  First serious band was the Wild Dog Blues Band which became jazz/rock fusion outfit, Embryo.  A prog rock unit, Gollum came next, all between 1971 & 1973.  Studying to become a doctor intervened until 1989 when music beckoned again by way of "jam" sessions and charity concerts when James met Lol Goodman. Gigs in the local area followed playing twin lead guitar in a hard rock band. James acquired his first bass guitar, a black BC Rich, in 1995 but now plays Status Graphite S2 Classic five string and a battered old Fender Precision.  James has now added a Brian Eastwood Custom Fretless Bass Guitar to his collection. Upon meeting Jon in 2002 there was an immediate "meeting of minds" and musical intent.  Their connection was soon recognised as they were asked to provide a rhythm section for a wide range of performers in a variety of settings and styles.
Jon Firth – Drums & Percussion:
1960s Manchester was a hot bed of music, heavily influenced by American blues and soul and it was against this climate that young Jon Firth first got hooked on music. Jon and three school friends formed a band that eventually became The Powerhouse, a seven piece soul band that turned professional and toured all over the UK & Europe for four years. Two singles were released under the DECCA label and the band topped the bill at the UKs most prestigious venues as well as supporting CREAM & JIMI HENDRIX amongst others. Over the years Jon has played in a variety of different bands and styles including jazz, blues (including several stints with legendary bluesman, Victor Brox), country rock and the inevitable, cabaret. Jon and James met about 10 years ago and there was an instant connection, invaluable for drummer and bassist. Over the years Jon's love of blues music has remained so it was natural for him to slot in to The Lol Goodman Band almost five years ago. Jon plays Ludwig drums and Zildjian cymbals.
Additional musicians:
Dave Turnbull  –  Saxes. Dave's started his musical life playing saxophone in the local bands of his home town Middleton, Manchester. It wasn't long before he found himself guesting with the Victor Brox Blues Train alongside Norman Beaker and the cream of the Manchester Blues players. A thirst for musical knowledge took Dave into the British Army, needing the experience, technical and theoretical backup he found as a musician in a Military Band. Following his demob Dave headed back to Manchester where he spent his time gigging or in  recording studios, learning the techniques of recording the saxophone and music production in the studio environment. Live playing continued with rock 'n' roll outfit the Midnight Flyers and rock band Idol Fret. Following their demise he went back to his beloved blues performing with The Marauders and Dirty Work with Victor Brox, Norman Beaker, Bare Wires, among many. Dave has played more sessions, deps. and guest spots with more bands in more venues and more country's than he can remember but his thirst for musical challenges and live performance never diminishes.

 Philip Barrett – Keyboards & guitar. Doktor Phil has been a gigging, earning musician from before he left school. He started to play guitar at the age of 5, violin from the age of 7 (in Rochdale Youth Orchestra), later, he also played tuned percussion in the school orchestra. From the late 70′s Phil spent 14 years in Denmark and became a Multi-Awarded Record Producer, Arranger and Session Musician with many platinum, gold & silver discs to his name and played guitar for The Jordannaires (Elvis's vocal backing group) and Johnny Paris (Johnny & the Hurricanes).
Done a couple of albums with Tony Sheridan and played on & produced major hits with major scandinavian artists.  He's also played Roskilde and all other major Danish festivals. Since that time Phil has gigged all ov
er the world playing many different instruments and many different styles. For stage and recording work Phil plays KORG OASYS 88 and YAMAHA TYROS 5 keyboards and guitars by PRS, Ibanez and Johnny Moerch.
Track Record in Hit-Tracks Top 100:
2015 > Work To Live