In the tradition of the true southern Blues masters, we proudly present SAMMY BLUE, "The Crown Prince of the Blues" (a title given to him by the late great Muddy Waters).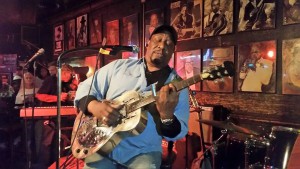 A native of Decatur, Georgia, Sammy's search for the music in his heart has led him through clubs, concert halls, festivals across the United States and abroad. While jamming with most of the great touring Blues bands and as an opening act for legendary artists Taj Mahal, Muddy Waters, Jerry Garcia, Albert Collins, Buddy Guy, Lightin' Hopkins, The Wailers, Robert Cray, Koko Taylor, Delbert McClinton and many others – he found his music. The direct influence of these legendary artists, along with his natural interest in traditional black music, accounts for his mastery of East Coast-, Delta-, Texas- and Chicago-style Blues – and the blending of these into his own musical style. He effortlessly transitions from authentic solo Blues performances to legendary high energy dynamic band presentations throughout his career. 
Sammy Blue also acted as musical technical advisor and appeared in NBC's critically acclaimed TV series "I'll Fly Away", for which we wrote and performed the song 'Delta Shuffle' for the pilot. Mr. Blue also appeared in Larimar/Paramount's TV production of "Mama's Flora's Family". His original compositions can be found in the documentary "Blues Stories" and the movie "Mending Hearts". He also co-starred in the stage play "Spunk" as Blues guitar man. He was in the Clint Eastwood/Warner Brothers movie "Trouble With The Curve" with Justin Timberlake. In the movie, Sammy performed his original song 'Everything' & Mo" from his latest Hottrax Records release "A Blues Odyssey" (2012). His latest activity is the lead role of Bluesman I.B. King in the producer/director's Toby Huber's independent Blues film "We Are Kings", starring Sammy Blue, Rita Graham, Bianca Ryan, Boogie Long and Pryce Watkins.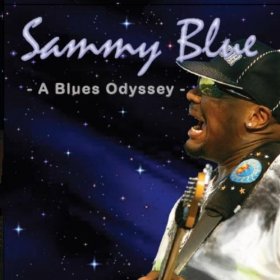 Taj Mahal said: Sammy Blue of Atlanta is one of the best kept secrets in roots music. And for good reasons! Sammy Blue is a truly unique talent and exceptional live entertainer. He has molded his craft into a virtual performance that exemplifies the very heart and soul of African American Blues, Soul and Funk music. This blesses him with a versatility, humor, style and authenticity that amaze audiences worldwide.