Desperados d'Amour started in December 2010. After a short time of playing just cover versions of well known rock songs, the band started to write original songs. The first single was released in June 2011. From this line-up, singer guitarist Grant E. Love is the only member in the line-up today, although Jesse Brock was also a founding member, but he left the band for a short time, to return in July 2013.
The style of the band is classic rock, with influences of numerous bands. Thin Lizzy, Bad Company, Lynyrd Skynyrd, ZZ Top and The Eagles to name a few.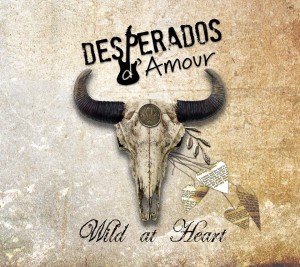 The band released their fantastic debut album on download and CD in July 2014.
Members Grant E. Love (vocals/guitar), Jesse Brock (bass & backing vocals), Ton "The Manimal" van Dijk (drums), Richard VanderLinden (guitar) and Djuri Boot (guitar & keyboards; plays with the band in the studio only)
Track Record in Hit-Tracks Top 100:
2014 > I Love You Like I Love Myself (featuring Danny Lademacher)
#05 in 2014 > Dancing Under The Neonlight
2014 > Sweet Noireen
#05 in 2015 > Find My Peace (featuring Rob Orleans)