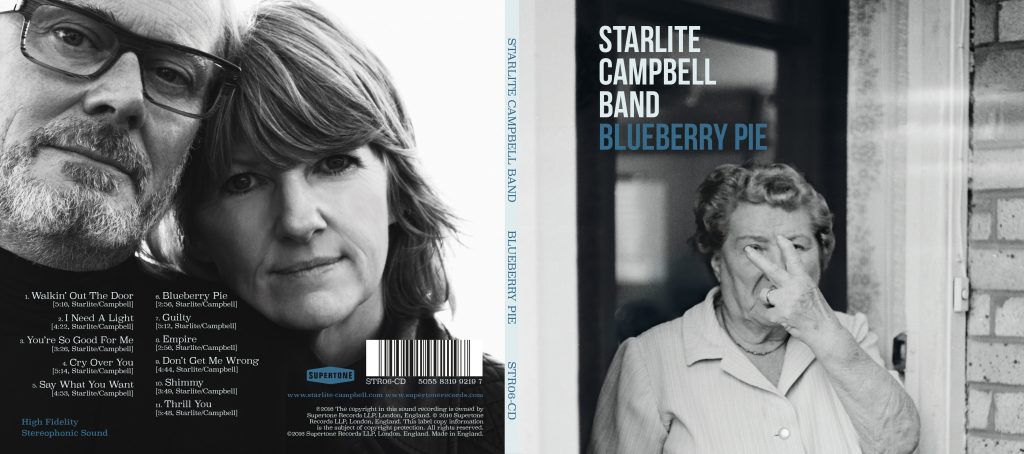 A fresh taste of British blues…
On 1st February, 2017 the Starlite Campbell Band released the new British Blues album 'Blueberry Pie' on the independent label Supertone Records. In November 2017 it was Nominated amongst four others for a European Blues Award in the Best Album / Recorded Session Category.
WHO ARE THE STARLITE CAMPBELL BAND?

The Starlite Campbell Band is a four piece steeped in British Blues – think Peter Green's Fleetwood Mac, John Mayall's Bluesbreakers and early Led Zeppelin. With contemporary songs inspired by real life and real people, they have a sound and vibe reminiscent of the mid 60's to early 70's – the halcyon days of music.

Starlite and Campbell, who married after a whirlwind musical romance, released their debut album 'Blueberry Pie'to rave reviews worldwide and a prestigious nomination for Best Album in the European Blues Awards.

"Unquestionably Blueberry Pie is a stunning debut." 5* – Morgan Hogarth, R2 Magazine

With extensive international radioplay charting top 10 in the UK, Australia, The Netherlands and American Blues Charts and over 40 four and five star reviews worldwide, the Starlite Campbell Band leave an indelible impression on audiences of all ages and musical backgrounds.

From Suzy's addictive, fun-loving bass groove and thunderous tone to Simon's explosive vocals and fretwork, the band is joined by keyboard maestro Jonny Henderson on Hammond/Wurlitzer (Robben Ford / Matt Schofield) and shuffle-master Steve Gibson on drums (Chris Farlowe / Larry Garner).

"Just as the Rolling Stones are making huge waves with their 30th studio release, Blue & Lonesome, along come a couple of seasoned musicians who bring back the sound of early UK blues, to near perfection." JD Nash – American Blues Scene, USA

The art of the song is everything and Starlite and Campbell fly in the face of disposable music – writing, recording and producing their work and then releasing on their independent label Supertone Records.

"The fusion of Starlite and Campbell's vocals is superb – a truly inspired debut" Gio Pilato, Bluebird Reviews

The 2018 tour includes Linton International Blues Festival, Luxembourg and The Netherlands before heading 'Down Under' for a tour of Australia followed by a series of dates across the UK, which includes The Met in Bury and the world famous Half Moon in Putney.

"Your set was excellent and well-received. We'll definitely get you back." Mike Bertenshaw: Creative Director, Linton Festival Board.

"It was a pleasure to have you guys; you smashed it." Adam Bertenshaw, Linton Festival.

The Starlite Campbell Band: a fresh taste of British Blues – best experienced LIVE!

IN THE BEGINNING…

The Starlite Campbell Band is the passion project of full time musicians Suzy Starlite and Simon Campbell. The duo had been recording, playing and touring in bands for many years until they met in 2012, when Starlite asked Campbell to join her band to play guitar. The love extended past each other's playing and the duo were wed in 2014 after a whirlwind romance, forming their new joint band, Starlite Campbell, in January 2016.
 
SUZY STARLITE

Suzy is a fine vocalist and songwriter plus plays fiendishly groovy bass, guitar and keyboards. Studying Media & Performance at Salford University she soon joined folk rockers Megiddo, who released an EP in 1994 followed by an album in 1996 and toured extensively on the UK folk circuit.

In 2012, she formed the band Starlite and drafted in Simon on guitar. That year they played many gigs featuring all original material penned by Suzy, including Mannifest, a three day festival on the Isle of Man.
 
SIMON CAMPBELL

Simon is a guitar player, vocalist, songwriter and record producer. Following playing in a number of original bands he was signed to Polydor Records in the early 90's and released an album with his band Little Brother. After the band split he went on to form The Disciples and released an album in 1994.

In 2011 Simon was nominated in the Best Vocalist category in the British Blues Awards following the release of his debut solo album ThirtySix. 2014 saw him release his second solo album, The Knife which reflected Simon's increasing love of acoustic music from both sides of the Atlantic.
Who played on the album?
Suzy Starlite: Bass & Vocals

Simon Campbell: Guitars, Percussion & Vocals
Featuring
The album was mastered by Jon Astley at Close to the Edge Mastering, London (John Mayall, The Rolling Stones, The Who, Eric Clapton).
CONTACT & MANAGEMENT
Worldwide representation by Jerry Da Costa of Robmont Music.
Email: robmontmusic@gmail.com
Mobile: +44 7504 016222