Mandy Lemons and Sturgis Nikides have codified their shared love of Texas and Delta Blues, hillbilly music and rock 'n roll into their own subconscious language.
Mandy Lemons sings the blues with an astonishing powerhouse voice which mixes original southern fried soul and northern attitude. She hails from Houston Texas. You will be astonished to hear so much power coming out of such a small figure, and you can clearly hear the influences of Koko Taylor, Etta James, Bessie Smith, and of course Janis Joplin. Her performances are visually and emotionally dramatic, approaching legendary status. Mandy "escaped" Houston in 2003 and headed to New York City. Five years later fate intervened and a mutual friend introduced her to Sturgis. They immediately began writing and recording and played their first show together in 2008.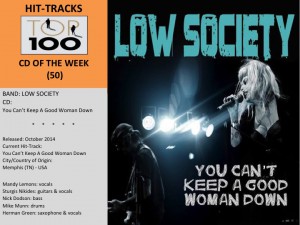 Sturgis Nikides picked up the guitar at an early age, after seeing the Beatles on the Ed Sullivan show. By his teens he was playing sold out shows at legendary NYC nightspots. After working with Velvet Underground chanteuse Nico in the late 70's, he joined forces with Velvet Underground co-founder John Cale. He made his vinyl debut on Cale's 1979 release "Ready for War" followed by the 1981 cult classic "Honi Soit" on A&M Records. After his years recording and touring with Cale ended Sturgis migrated south to Miami Beach where he formed the band Voidville with Diane Ward. He released his debut solo album "Man of Steel" in 2004.
Low Society's 2011 debut album "High Time" has been called "an audacious dirty blues record". Among their hundreds (and counting) of shows, notable Low Society appearances include the 30th International Blues Challenge in Jan 2014, Mississippi's Juke Joint Festival for four consecutive years (2011/2012/2013/2014), the BluesAlive Festival 2012 in Sumperk & Zlin, Czech Republic and Chorzow Poland, and NYC's Howl Festival for three consecutive years (2009/2010/2011).
Sturgis and Mandy left NYC in January 2012, journeying south in search of the essence of the roots of American music. Wandering through the backroads of Texas and Mississippi, they landed in Memphis Tennessee, the birthplace of rock 'n roll and the cradle of the blues. They have joined forces with some of the best musicians the Bluff City has to offer. Native Memphian Mike Munn is behind the drums, and Arkansan Nick Dodson holds down the bass. The new line-up is a powerhouse, scorching audiences all over the mid-south.
Low Society is looking forward to return to Europe!
The Low Society hit-album, "You Can't Keep A Good Woman Down" is released on Icehouse Records in October 2014.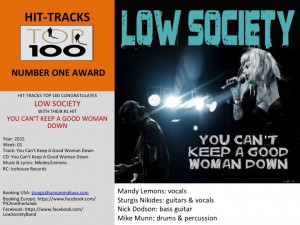 TRACK RECORD IN HIT-TRACKS TOP 100:
#01 in 2015 > You Can't Keep A Good Woman Down
#06 in 2015 > Need Yer Love
#01 in 2015 > Crammed and Jammed
#06 in 2015 > Up In Yo' Grave