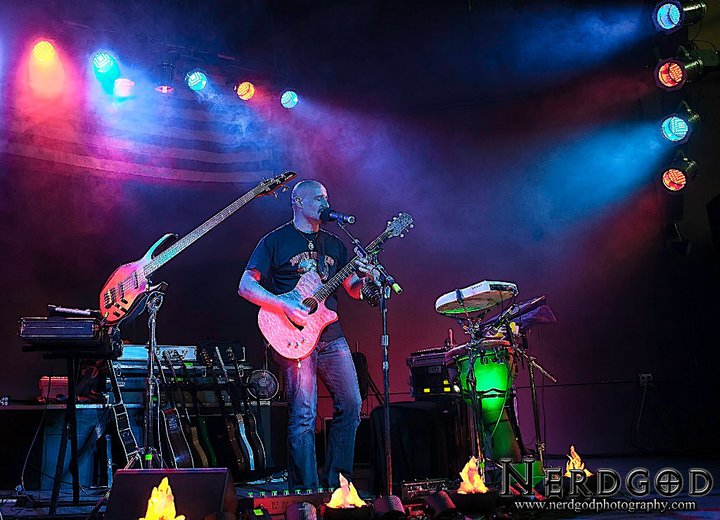 Seattle-based singer/songwriter Jonny Smokes is redefining the idea of what a one-man-band can really be. Masterfully using a loop sampler with a wide array of effects pedals and different instruments, he will quickly compose full songs right before the audience's eyes and ears. From his proficiency at multiple instruments to his enthusiastic showmanship, he displays a tremendous talent that leaves crowds amazed, and has a warm and humorous stage personality that has earned him thousands of loyal fans and friends world wide. Performing a wide variety of music styles ranging from laid back folk ballads, upbeat party pop, alternative rock, hip hop and heavy metal, his sonic diversity aims at brings everyone in the room together as one big party that all can enjoy.
Born in Reno, Nevada, in 1973, Jonny grew up amidst the sounds of his parent's vast record collection, and witnessed several concerts atop his father's shoulders, all exposing him to many great influences. Displaying a natural talent for learning music by ear, he skillfully played piano as a young child. He qu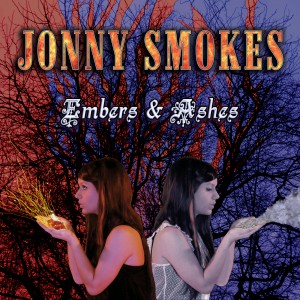 ickly became absorbed with his first bass guitar at age 12, and within weeks began performing live concerts along side his father in a classic rock cover band. As his teenage years went by he also started to play electric guitar and sing harmony vocals. Developing into a strong lead vocalist and charismatic front man by his early 20's, he also went on to learn about mixing live sound and studio recording, midi synths and drum programming, effects processors and live hand percussion, becoming a sonic and technical "Jack of all trades."
With many skills at his disposal, Jonny Smokes has enjoyed a busy full time career as a studio musician, stage tech and live performing artist since moving to Seattle in 1998. Performing both solo and with several popular Pacific Northwest acts throughout the years, he has shared stages and toured alongside such notable solo artists as Chris Daughtry (American Idol,) Vicci Martinez (The Voice,) Jared Blake (The Voice,) guitar heroes like Gary Hoey, Dudley Taft, Jennifer Batten (of Michael Jackson,) and Michael Wilton (of Queensryche,) and a wide variety of rock bands including Volbeat, HIM, Avenged Sevenfold, Fates Warning, Sanctuary, The Cranberries, Harvey Danger, Greenday and The Offspring.
In the past decade Smokes has toured as a lead guitarist with the legendary metal vocalist Warrel Dane (of Nevermore & Sanctuary,) fronted tribute bands as a vocalist for The Empty Spaces (Pink Floyd) and Astro-Creep (White Zombie/Rob Zombie,) played bass for The Green River Revivalists (Creedence Clearwater Revival,) and played guitar and sang with Outshined (Soundgarden/Temple Of The Dog) and Jar Of Flies (Alice In Chains). He also tours exclusively in Europe a few times a year with The Sounds Of Seattle, fronting a group of Dutch musicians that performs a mixture of popular Seattle artists ranging from Hendrix to Macklemore, Modest Mouse to Pearl Jam, and plenty of 90's alternative and grunge.
As busy as all of this might keep any normal musician, the bulk of his time is still spent touring the world as a one man looping orchestra. His song writing talents and sonic diversity are displayed by his variety of popular original songs. From the light hearted album "Swim" (2011), the acoustic charm of "26 Days (Jillian's Song)" caught the attention of fitness superstar Jillian Michaels, who shared it on her facebook page to the delight of many new fans. The pop single "Boomerang" earned Jonny a live appearance on the Bravo network series "LOLwork," and several live radio and television appearances in Europe. The darker mood of the "Drown" CD (2011,) gave rise to the gritty hit "Pity Party," which continues to be requested by rock fans world wide. The haunting single "Memory Lane," inspired Italian solo artist Dona Rock to collaborate with Jonny Smokes to re-record an acoustic version for her to sing, with string arrangements added by famed Italian producer Beppe Crovella.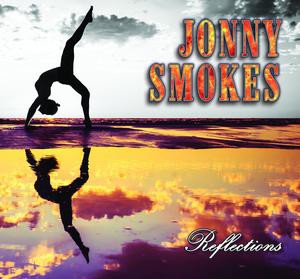 Continuing to display his signature sound amidst varied styles, the 2013 release of "Embers & Ashes" was adored and praised by fans and critics. The positive messages of the upbeat hard rock "All Green Lights" inspired several radio interviews to turn into long talks about gratitude, while the heart breaking sorrow of the blues single "Gone Too Soon" has brought people to tears night after night, and has been shared at several funerals. After almost 3 years of constant touring, Jonny Smokes finally slowed down just long enough to record and release his latest album "Reflections" (2016,) an acoustic styled collection of ballads and introspection. The first single "Dreamer" has live audiences cheering wildly as a nightly encore, and the heart aching new release "Over" is quickly shaping up to become another hit, being popularized by the Dutch television show Giels Talentenjacht and shared by fans across the globe.